Big Island Hidden Craters Hike
A carefully chosen team of personable, well-informed, and skilled interpretive Guides.
Big Island Hidden Craters Hike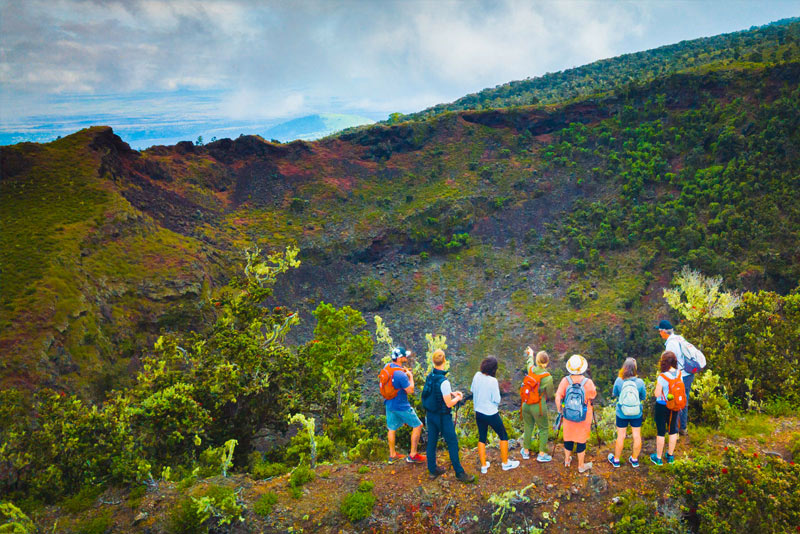 Overview
Embark on an adventure through private property, surpassing three securely locked gates, to discover the upper reaches of Kona's extraordinary volcano, Hualalai. This remarkable journey grants you exclusive entry to the grounds where numerous volcanic eruptions took place in the 1800s, all concentrated within a conveniently close proximity. Delve into a one-of-a-kind lava tube and seize breathtaking vistas of the coastline.
Highlights:
Experience the privilege of exclusive private entry to Hualalai volcano and immerse yourself in a pristine native forest.
Indulge in the joy of a 3-4 mile hike through pristine cloud forest, where untouched natural beauty unfolds, offering breathtaking views of the enchanting Kona coast.
Stand on the edge of precipitous volcanic craters that plunge deep into the earth below.
Embark on an exhilarating climb through a section of a captivating lava tube.
Activity Duration:
5 Hours
Upgrade Options:
No upgrades available
Tour Schedule
Tour is approx. 5 hours. Travel time round-trip is less than 1 hour.
Videos
Big Island Hawaii Hidden Gems Trail Tour
Description
Hawaii surpasses being merely a picturesque island; it is a place where the realms of myth and science converge, unraveling profound meanings and offering insights into our world and the universe. Within Hawaii's boundaries, one can witness the precarious existence of uniquely adapted flora and fauna, such as the scarlet-red ʻIʻiwi honeycreeper, teetering on the brink of extinction. It is a land where the two largest mountains on Earth emerge majestically from the depths of the sea, giving birth to deserts, rainforests, and subtropical permafrost.
Hawaii serves as a captivating classroom where native and introduced species, as well as people, engage in dynamic interactions, showcasing the marvels of nature. We understands that an exceptional tour commences with an outstanding guide. Hence, they have meticulously chosen a team of friendly, knowledgeable, and capable interpretive Guides. These Guides possess the task of revealing the natural and cultural wonders of Hawaii, all while ensuring your utmost comfort and safety.
When selecting their guides, We seeks individuals with a unique curiosity, an insatiable thirst for knowledge, and an ardent passion for sharing Hawaii's wonders with others. At Hawaii Nature Org, their focus lies in interpretation—not simply reciting facts from a script, but actively demonstrating and immersing you in the essence of what makes their home so extraordinary.
Know before you book:
Hiking or sturdy closed-toe shoes, a hat, sunscreen, and a light sweatshirt or jacket.